UTM Converter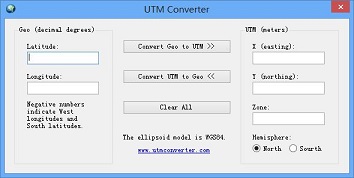 Instructions
UTM Converter is a geographic tool for converting UTM (Universal Transverse Mercator) coordinates to Lat/Long (Latitude/Longitude) coordinates, a free coordinates converter and calculator, can help you to quickly convert between Geographic and UTM Coordinates.
The latitude/longitude geographic coordinates are entered and displayed in decimal degrees, negative numbers indicate West longitudes and South latitudes. The UTM coordinates are entered and displayed in meters. This software uses the WGS84 geodetic datum (ellipsoid model).
Downloads

License
Freeware, free for personal and non-commercial use.
How To Use
Convert Lat Long to UTM
Enter the GPS Latitude/Longitude coordinate (decimal degrees).
Press the "Convert Geo to UTM" button.
Convert UTM to Lat Long
Enter the UTM coordinate: X (easting), Y (northing), Zone, and Hemisphere (Northern or Southern).
Press the "Convert UTM to Geo" button.
---
Copyright © 2013 by UTMConverter.com, All rights reserved.